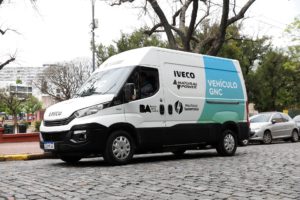 IVECO Argentina, a CNH Industrial group brand and a pioneer in the development of vehicles driven with alternative fuels, continues to move forward towards a more sustainable transport with the delivery of the first IVECO Daily Van running on CNG in Argentina. This first OEM medium size utility vehicle running on natural gas of the country, was presented to the Government of the Autonomous City of Buenos Aires.
"We are proud to offer a product with low operating costs that will contribute to the reduction of polluting emissions. The Daily van, is a vehicle designed and manufactured to operate exclusively on gas and obtains the same performance and durability compared to a diesel vehicle", said Julián Recupero, product manager at IVECO Argentina. IVECO is the first OEM approved for marketing  CNG vehicles in Argentina but it has more than 20 years of experience in the European market with recognitions and awards worldwide.
Global Gas Mobility is proud to be part of the process, and assisting IVECO in the development of its Natural Gas activities in Argentina. Sandra Girini and Diego Goldin, GGM directors, were present in the delivery of this first unit.