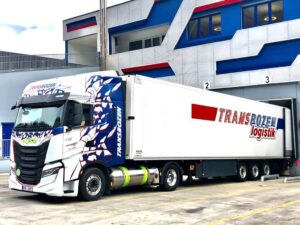 IVECO will supply 20 IVECO S-WAY NP LNG trucks to the Czech company Transbozen spol . s.r.o. with its registered office in South Bohemia - one of the most innovative and most successful logistics companies in Europe, which has set itself the goal of fulfilling the transport wishes of customers to their maximum satisfaction.
Transbozen's decision to begin transforming its fleet with cleaner vehicles is based on the company's strong concern for the environment and its commitment to make a tangible contribution to achieving the goals set by the European Union. It is also motivated by the tightening of requirements of large retailers for the decarbonization of transport solutions. The level of decarbonisation is also increasing due to specific investments from Transbozen in the development biogas, thus closing the circle of perfect circular economy without impact on the environment.
IVECO S-WAY LNG vehicles were for Transbozen a natural choice. It has found in them not only ecological and economic sustainability, but also high performance, which it cannot do without.
These vehicles are equipped with technology that has been specifically designed to achieve a significant reduction in fuel consumption and pollution - a 90% reduction in NO2 and particulate matter emissions and a 95% reduction in CO2 emissions compared to diesel equivalents when using biomethane.
Hofer Rudolf, CEO of the group , made the following statement: "As a transport company, we place emphasis not only on the equipment of our vehicles, but also on the drive technology and environmental friendliness of our fleet. Our company's goal is to reduce CO2 emissions and costs by continuously investing in new environmentally friendly solutions. We are convinced that we have found the right partner in IVECO in terms of fuel consumption, reliability and range of vehicles. "
Vincenzo Nicolo ', IVECO's Business Director for the Czech Republic and Slovakia , commented: "A visionary and strategic customer such as Transbozen gives IVECO the opportunity to feel what it means to focus on the environment. This is how we should all behave in perfect balance with efficiency and economy every day . Transbozen's decision to use predominantly bio LNG as fuel for its trucks is a step forward in this regard. Sustainability is not just a word for IVECO, it is a mission accomplished. "Zero emissions transport is here. And it is embodied by IVECO S-WAY NP. "
Source: IVECO Czechia