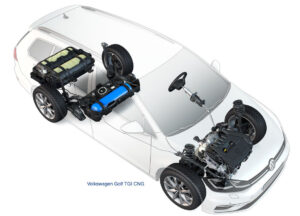 Despite being heavily impacted by the health crisis, Italian sales of NGV cars in 2020 were nevertheless strong, compared to other fuel options. The market was dominated by the brands of the Volkswagen group in 2020.
With the closure of car dealers for many weeks, the Italian light duty CNG vehicle market did suffer from the health crisis. With 31,613 registrations recorded over the year, sales of NGV vehicles in Italy fell by 18% compared to 2019. However, the segment fell less heavily than gasoline (-39%), diesel (-40%) or LPG (- 31%) and even slightly gained market share compared to 2019 (2.3 VS 2.0%).
With Fiat restructuring its CNG car sector, the situation continues to benefit the brands of the Volkswagen group which has a wide offer and tends to monopolize most of the sales.
With 5,048 registrations, the Volkswagen Golf TGI took the lead in the Italian market in 2020, just ahead of the CNG version of the Seat Arona (4,815). Rounding out the podium with 3,783 units sold, the Polo TGI is closely followed by the new Skoda Octavia G-Tec , with 2,977 units registered. Once the market leader, Fiat suffered and with 2,903 units sold over the year, the little Panda Natural Power finished in fifth place on the Italian market.
Source: Gaz-Mobilite.fr/UNRAE