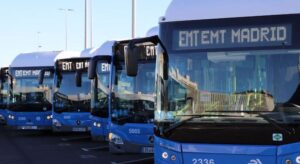 The municipal transport company of the city of Madrid will replace, by 2023, its entire fleet of diesel city buses with CNG units. In total, 520 natural gas buses will replace the current vehicles, for a budget of over 160 million euros.
With an average age of less than six years, Madrid's bus fleet is one of the most modern in Europe and has vehicles incorporating the latest technological advances in terms of safety, comfort, environmental requirements and accessibility. Nevertheless, in accordance with its commitments for eco-responsible mobility, the municipality has decided to scrap buses that do not contribute to its environmental sustainability strategy (Madrid 360) and continues to invest in natural gas buses .
By 2023, five hundred and twenty compressed natural gas (CNG) vehicles must be added to the municipal public transport services. The first one hundred and ninety will arrive in 2021, supplemented by electric and hybrid buses, which will remove 258 diesel units out of the current fleet. Then the next three hundred and thirty will come in 2022 and 2023. Finally, between the CNG, electric and hybrid versions, six hundred and twenty-six new buses will equip the municipal transport authority in Madrid.
With a total investment of 161.2 million euros, Madrid sends a strong signal to other European megacities: decarbonization commitments can be kept, and even advanced (Madrid 360 set the deadline at 2025).
It is calculated that, in the case of the commitment that EMT has signed, the reduction of emissions could be equivalent to slightly more than 21,300 tons until 2022. If the price of each ton of CO2 is set, at 9.70 euros (plus VAT), in said period the total income of EMT from the sale of its carbon credits will amount to more than 207,000 euros