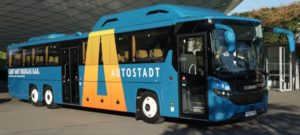 Koblenz, Germany, February 19, 2019: Scania Germany has delivered a Scania Interlink CNG to the Autostadt in Wolfsburg - the first gas-powered bus in the Scania coach range. Scania and the Autostadt thus make another contribution to more sustainability.
Scania Germany, the provider of sustainable bus solutions and services, has for the first time delivered a gas-powered coachbuilder lowdeck with the  Scania Interlink LD CNG in the German market. The CNG bus has 65 seats and a length of 14.30 meters, and is intended to be used to transport visitors to the Autostadt in Wolfsburg and also as a work shuttle. It will provided sustainable passenger transport in the region. Depending on the type of use, the range is between 400 and 650 kilometers.
Autostadt's Interlink bus has an output of 320 hp and in addition to modern safety systems also has a GPS-based cruise control to further reduce gas consumption. Mobility impaired passengers may board the bus via a built-in lift at the rear door.
"Scania buses stand for  environmentally friendly passenger transport . This also includes propulsion solutions for natural gas and biogas, "says Luc Moulin, Director Sales Buses, Scania Germany Austria. "Compared with a comparable bus with a diesel engine, a Scania CNG bus and the use of fossil natural gas can save up to 15 percent CO2. With biomethane, ie biogas, the CO2 reduction is even up to 90 percent. This shows that Scania is already offering numerous alternative drive solutions on the way to a sustainable transport system, which actively contribute to greater sustainability and climate protection. " 
"Our goal in cooperation with Scania was to use the brand's first CNG bus as a sign of modern, sustainable mobility here in the Autostadt. We consciously chose the strong branding of the bus so that the new Scania CNG bus immediately stands out in the streets for its innovative technology and the associated CO2 reduction. I am sure that our guests and customers, as well as our partners in the Group and the brands, will greatly appreciate the Interlink, "said Autostadt CEO Roland Clement.