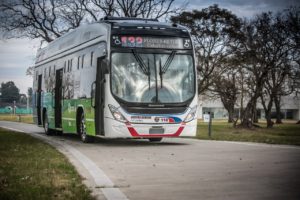 In an event for the press, Scania's General Director Andrés Leonard, presented the first CNG Bus in Argentina to be supplied by an OEM. The unit manufactured by Scania in Brazil with bodywork supplied by Marcopolo Brazil was imported under the new regulation NAG 451 published last January by the Regulatory Authority ENARGAS. The unit will run in the urban bus line 132.
During the event, the press were briefed by Andrés Leonard about the actions of Scania in promoting sustainability and protecting the environment.  Gianfranco Podestá and José Vittar from Scania described details of the unit. Diego Goldin, from GGM who is advisor on natural gas to SCANIA and technical representative before ENARGAS, gave a presentation on the availability and pricing of gas, and the influence that the Shale Gas from Vaca Muerta has on the planning of gas mobility in Argentina. The government expects to more than double the gas demand in the transportation sector  in the next ten years, to reach at least 13 MM cubic meters per day.
Scania's plans include working with Argentine suppliers to produce the bodywork locally.
GGM wishes to highlight the importance of this decision by Scania, and also to congratulate the Government of the City of Buenos Aires for promoting the tests and encouraging the use of sustainable transportation that will improve the life of the people in the Capital.