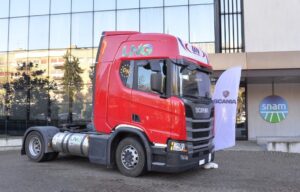 Snam, Scania and DN Logistica have unveiled a sustainable mobility plan that will involve transforming DN Logistica fleet of vehicles to liquefied natural gas (LNG). The company will supply these vehicles to Snam for the specialized transportation of steel pipes throughout Italy.
DN Logistica's fleet will be made up of 100 LNG vehicles over the next five years. The first vehicles were already delivered by Scania: they are equipped with a 13-litre natural gas engine with a torque of 2,000 Nm and 410 horsepower, have a range of up to 1,100 km, and they have a similar performance to diesel engines of equal power. LNG vehicles reduce pollutant emissions such as nitrogen oxides, particulates and carbon monoxide, as well as carbon dioxide emissions.
Federico Ermoli, Snam's Chief Energy Transition Officer, said: "Our partnership with Scania and DN Logistica is one of many initiatives that Snam has undertaken to promote sustainable mobility through natural gas and biomethane, which are environmentally friendly, cost-effective and high-performing, and in which Italy plays a leading role in Europe. Our industrial plan to 2023 envisages investments of over €400 million in new energy transition businesses, including infrastructure initiatives to develop the distribution and supply of compressed natural gas and liquefied natural gas for transport, as well as the biomethane industry. Our commitment to sustainable mobility begins with our own company. For this reason, after beginning to convert Snam's fleet to natural gas, we are now working along our supply chain with business partners such as DN Logistica."
Franco Fenoglio, Italscania's Chairman and CEO, commented: "Continuous developments across Italy's network of refueling stations alongside reduced environmental impact has made liquefied natural gas a particularly interesting solution for medium and long-haul transportation. An increasing number of transport and logistics companies have purchased LNG vehicles due to their environmental and economic advantages. These advantages are heightened further through the use of biomethane. Tests carried out on more demanding routes with full loads have produced extremely positive results, both in terms of consumption and noise. We are delighted to present this new fleet of DN Logistica LNG vehicles to Snam, a highly prestigious company that is taking concrete action to reduce emissions and counter climate change. We would also like to congratulate DN Logistica for their efforts, and hope that they will continue to successfully create efficient and sustainable transport."
"DN Logistica is aware of the increasing importance of logistics companies' environmental impact. As such, we are renewing our fleet in order to reduce our environmental footprint," said Luigi Nicosia, the owner of DN Logistica. "In future, we aim to continue on this sustainable path through a project that will undertake several initiatives, including the introduction of new LNG vehicles, which will create more efficient and integrated transport systems."
"Today, choosing liquefied natural gas (LNG) as a fuel means choosing the most sustainable transport solution", said Licia Balboni, Federmetano's President. "A growing awareness of this is reflected in the increasing popularity of the LNG sector. At present, there are 63 outlets in Italy (making up 1/4 of the EU network), which supply around 2,250 industrial vehicles, of which 1,041 were registered in 2019 alone (+50% compared to 2018). This growth is unprecedented, given that the first LNG distributor was opened in 2014 and that a further 42 are currently planned. The next step will be to transform the LNG from fossil fuels into bioLNG as well as reducing emissions of PM10 and NOx. We will also be able to make an important contribution to CO2 reductions by encouraging shorter supply chains and promoting local skills. This will make efforts to promote a better quality of life, such as those undertaken at DN Logistica, even more effective".
Source: SNAM