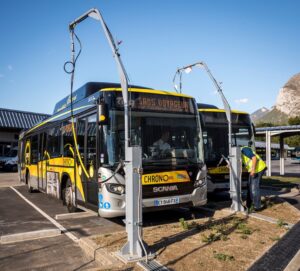 For several years, the city of Grenoble in France has chosen to limit air pollution and opted for buses that are more respectful of the environment. The first Scania CNG buses were delivered in 2017.
By the end of this year Scania will have delivered 56 Citywide Low Floor and Citywide Low Entry, 20 articulated Citywide and 25 Citywide of 12 m. This latest order will in fact complete what will constitute the largest urban CNG fleet for Scania in France.
Scania Citywide are equipped with an electronic braking system, disc brakes, automatic tire pressure control and Scania Retarder. The ZF six-speed automatic gearbox is mated to the Scania 9-liter engine which develops 280 hp for the 12 m and 320 hp for the 18 m. It can run on natural gas but also on biomethane. Its lowered rigid front axle allows optimal passenger flow.
The entire fleet is maintained by the Scania Rhône-Alpes site in Voreppe (38), which has Scania expertise in both trucks and coach-buses.
" It is a great satisfaction for Scania France to have won this new call for tenders with CNG vehicles. The Grenoble network and its metropolitan area are thus becoming a benchmark in France in the field of vehicles running on Natural Gas or Bio-CNG for Scania. Increasingly in demand across the country, Scania Natural Gas vehicles fully meet current and future standards, as well as the demands of urban areas, "explains Philippe Pierson, urban and interurban network development manager at Scania France.
SEMITAG, which operates the Grenoble metropolitan area's public transport network, a partner of the Transdev group, currently has 220 standard buses, including 56 hybrids and more than 100 using CNG. More than 17 million kilometers are traveled each year, serving the 49 municipalities of the agglomeration. The first CNG buses appeared in 2002.