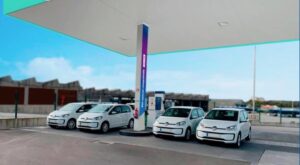 Six light vehicles powered by Compressed Natural Gas (CNG), were added to the STCP fleet of CNG buses powered by this clean fuel. In this way STCP (Sociedade de Transportes Colectivos do Porto) advances its commitment to greener and more economical urban mobility.
These vehicles will be allocated to essentially polycentric operational services in Greater Porto area making it clear that natural gas mobility is not only economically viable in the heavy transport of passengers and goods, but also constitutes an assertive response, in environmental and financial terms, in the light vehicle segment. In fact, vehicular natural gas contributes significantly to the reduction of emissions, while allowing a reduction in cost of around 40% in € / km over the fuel traditionally used for this type of vehicle.
In detail, the changes in the fleet in favor of vehicular natural gas, resulted in a decrease of 1467 and 960 tons of CO2 emissions, respectively for the replacement of 173 vehicles between 2018 and 2020, and 81 vehicles in 2021, respectively.
Since the 90s, STCP has been investing in Compressed Natural Gas technology, and today it has a very valuable asset: the largest L-CNG (Liquefied Natural Gas and Gasification) station in Europe in terms of capacity . With a fleet of approximately 350 buses powered by GNC, in a total park of about 420 where electrical technology is also present, buses powered by Natural Gas traveled in 2020 about 17 million km in the six municipalities served by STCP and have been contributing to the decarbonisation of the collective mobility of residents in Greater Porto and the tens of thousands of people who visit these cities on a daily basis for leisure, study or work.
According to Ângelo Oliveira, director of the Sociedade de Transportes Colectivos do Porto, this decision materializes another step of this public company with the cause of the energy transition, reinforcing the STCP's commitment to national and European goals in terms of decarbonization and improving the environment.
João Filipe Jesus, director of the Dourogás Group's CNG mobility business area, pointed out that, although vehicular natural gas is essentially geared towards the professional sector, it can also be an alternative in light mobility, with substantial economic gains and without loss of performance, exemplifying that it is currently possible to make the route between Lisbon and Porto, with less than 15 € of fuel, with this type of technology.
Source: SCTP & Dourogás