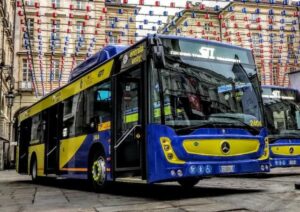 The Mayor of Turin Chiara Appendino and the Councilor for Transport Maria Lapietra, the Councilor for Transport of the Piedmont Region Marco Gabusi and the CEO of GTT Giovanni Foti presented the new CNG-powered city buses of the GTT fleet.
13 cars have already been delivered and another 27 will follow by the end of January 2020, for a total of 40 buses. The new buses have gone into service on January 2, on line 55 and progressively during the month they will be put into service on lines 71 and 12. The forty new Conecto CNG will replace the 12-meter CNG vehicles purchased by GTT in the 2000 and 2001. The Conecto CNG engine further lowers the level of noise and atmospheric emissions compared to the CNG vehicles that are being replaced.
The new Conecto CNG buses, fueled by natural gas, have been supplied by Daimler – Mercedes group which has won the tender launched by GTT. The contract stipulates "full service" maintenance for eight years. The total investment is € 11.6 million, while the buses alone, reaches approximately € 11.1 million, and it is financed 50% by the Piedmont Region and 50% by GTT.
«Today is an important day: we have anticipated the delivery by at least four months - says the CEO of GTT, Giovanni Foti - So we managed to make available 191 new vehicles to the city within two years. But we want to do even better: to continue with the overall renewal of the fleet ».
"These forty methane buses are added to the 74 arrived in recent months - says the Councilor for Transport, Maria Lapietra - It is an important relaunch of our public transport". Then the promise: "From now on the city will buy only ecological vehicles". The mayor of Turin, Chiara Appendino, also expressed her satisfaction.