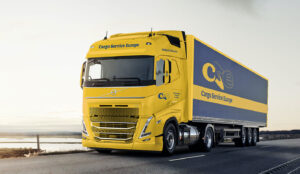 Cargo Service Europe (CSE)  is an innovative player in the field of transport and logistics. They are specialized in full-truck-load road transport throughout Europe. The company has recently signed an order for 60 new Volvo FH LNG trucks. The order consists of 20 Volvo FH 4x2 LNG tractors and 40 Volvo FH 6x2 LNG trucks with trailing axle. All of them come with a  460 hp engine. The vehicles which will enhance the sustainability of CSE's 100 truck fleet will transport empty cans to soft drink and beer manufacturers. The possibility of reaching almost zero carbon emissions with (Bio-)LNG was one of the main factors for CSE to switch to LNG trucks.
The vision of Martijn Vos, director of CSE, is to set up a CO2-neutral logistics chain for the delivery of empty cans to soft drink and beer manufacturers, among others. "In order to reach our sustainability vision, we have started a dialogue with our customers. Central to this was how we can jointly shape sustainability and which suppliers have the best business case . So we ended up at Volvo Trucks Netherlands, Volvo dealer BAS Truck Center and energy suppliers"he says.
CSE sees LNG as a transition fuel to CO2-neutral Bio-LNG . "The fact that our transport with the use of Bio-LNG can be 100% CO2-neutral, appeals to us enormously. Bio-LNG is not yet optimally available, but after consultation with LNG suppliers, we are confident that the share of Bio-LNG will increase significantly in the coming years. Investing in LNG paves the way to Bio-LNG, "continues Martijn Vos.
Cargo Service Europe (CSE) from Oss was founded in 2010 and has quickly grown into an important player in the Full Truck Load and large volume segment. The company specializes in the transport and storage of empty cans in which CSE plays a leading role within the Benelux. The company manages the logistics chain: "From the roll of aluminum from which the cans are produced to the can that is delivered to the customer. We also take back empty pallets. We have devised various smart solutions for our transport and storage that allow us to organize the chain efficiently and  sustainably. The new LNG trucks fit perfectly into that sustainable character ", Martijn Vos concludes.