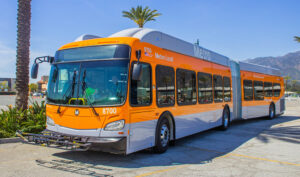 New Flyer of America Inc. a subsidiary of NFI Group Inc., one of the world's leading independent global bus manufacturers, today announced the Los Angeles County Metro Transit Authority ("LACMTA" or "LA Metro") has exercised options for 70 Xcelsior® 60-foot, heavy-duty compressed natural gas ("CNG") transit buses.
The options are part of a contract with LA Metro for up to 400 CNG buses originally announced in October 2017. The buses are built in St. Cloud, Minnesota, and are completed in Ontario, California.
The units will replace older, end-of-life vehicles, supporting LA Metro's goal to reduce emissions in L.A. County through the Zero Emission Roadmap 2.0, while also working toward fulfillment of its Vision 2028 Plan. Vision 2028 aims to transform mobility in L.A. County through a multi-pronged approach that includes reducing traffic congestion, reducing travel time via high quality transit options, delivering outstanding trip experiences and enhancing communities and lives through mobility and equitable access. The order of articulated buses also allows LA Metro to deliver greater capacity along its busiest routes, with passenger capacity of up to 120 on each bus.
"Since 1998, New Flyer has proudly delivered nearly 1,500 buses to LA Metro to provide greater mobility options through public transit. Our CNG buses continue to provide safe, clean, and reliable transit while helping the people of L.A. County move through their community each day," said Chris Stoddart, President, New Flyer. "We commend LA Metro on its continued pursuit of sustainable and zero-emission mobility and look forward to assisting the achievement of 100% zero-emission transit over the next decade."
Xcelsior CNG buses conform to the Environmental Protection Agency and National Highway Traffic Safety Administration Comprehensive Heavy-Duty National Program standards, reducing fuel consumption for heavy-duty highway vehicles. This low-emission CNG option also works to combat global climate change and aggressively reduce greenhouse gas (GHG) emissions from heavy-duty vehicles.
The Los Angeles County Metropolitan Transportation Authority is the United States' third-busiest transit agency and is the largest transit agency in L.A. County. LA Metro delivers bus, light rail, heavy rail and bus rapid transit services with more than 370 million boardings per year.
New Flyer has been a CNG leader for 25-plus years, with over 13,000 CNG buses delivered in North America since 1994. CNG buses emit 90% less nitrogen oxide (NOx) than traditional diesel engines, and are clean, safe, and readily available – emitting virtually no visible particulate matter and directly reducing GHG emissions and smog. CNG buses are also easier to maintain and eliminate the need for particulate filters and regeneration cycles.
These units can be fueled with fossil Natural Gas, Renewable Natural Gas or any blend of NG and RNG without any modification or performance variation, meking these CNG buses the ideal option for a carbon neutral transport in the near future.