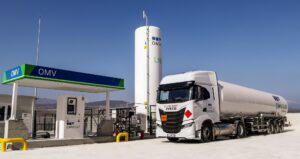 OMV, Turkey has decided a two-stage investment in clean mobility. The company has been the market leader in LNG sales in 2020, and it has decided to initially replace 10 percent of its tanker fleet of 80 vehicles with units using LNG as a fuel. OMV thus became Turkey's largest fleet of LNG-trucks. In parallel it installed an LNG filling station in Bolu to serve the LNG fuel tankers. At the press conference held on March 18, 2021, OMV General Manager Serkan Hotoğlu in Turkey explained these two investments.
OMV Turkey's natural gas operation takes LNG to locations beyond the reach of the pipeline. After 15 years of service, the fleet is comprised of 80-vehicles with 10 million kilometers. Hotoğlu said, "20 percent of the world's carbon emissions arise from transportation, and of this, 65 percent are related to highways traffic by heavy vehicles. We wanted to be a pioneer and encourage the use of LNG on highways as an environmentally friendly and clean fuel. We replaced 10 percent of our fleet with IVECO trucks using LNG fuel. In terms of the continuity of this initiative, we will be able to both fill our own vehicles in Bolu and closely monitor the efficiency and fuel usage related to the use of our vehicles, We also wanted to have a facility where we could open its operation to our stakeholders when desired. With these tankers, which use LNG as fuel, we can cover approximately 1.25 million kilometers per year, while saving approximately 120 tons of CO2 per year." Hotoğlu also underlined that, thanks to the investment they made in transporting LNG to their customers with LNG fueled vehicles with lower carbon emissions they will create great awareness about environmental issues.
Increasing use of LNG in land and sea transport will reduce global carbon emissions
continued Hotoğlu. "OMV's global target is 'zero carbon' by 2050. The preference of LNG, especially in land and sea transportation, will play an important role in achieving this goal. For this reason we invested in the LNG fueled fleet and filling facility; I believe it will be a starting point in terms of encouraging the widespread use of LNG in Turkey."