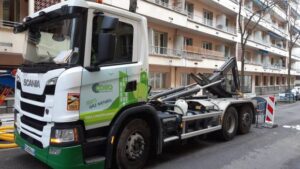 The City of Lyon (France) voted last week to set up a stricter Low Emission Zone (ZFE) from next year. Already limited diesel heavy goods vehicles will be totally banned by 2026 in the city where they have developed industrially. The goal of the city is clear: to allow only Natural Gas or electric utility vehicles and heavy goods vehicles.
Last week's vote also targeted passenger cars. Elected officials adopted a deliberation banning Crit'Air 5 private vehicles and not classified as of 2022. The second step is for heavy vehicles. According to a defined schedule , vehicles classified Crit'Air 4 (heavy goods vehicles Euro 4), 3 (PL Euro 5) and 2 (PL Euro 6) will be phased out between 2023 and 2026 with an objective of completely phasing out diesel in 5 years. Only Natural Gas or electric trucks will be able to circulate in and around Lyon.
To support transporters, the Metropolis already offers a financial aid system for the acquisition of clean vehicles . The beneficiaries of this incentive scheme are SMEs with proof of a registered office, establishment or branch on the territory of the Metropolis, which employ less than 250 people and whose annual turnover does not exceed 50 M € or for which the annual balance sheet total does not exceed 43 M €.
The aid is allocated for the acquisition of a clean vehicles (100% natural gas - electric or hydrogen -): light commercial vehicle assigned to the transport of goods (€ 5,000 for vehicles 100% CNG or 100% electric; € 8,000 for hydrogen vehicles), heavy goods vehicle used for the transport of goods (€ 10,000 for 100% CNG or 100% electric vehicles), € 13,000 for hydrogen vehicles), electrically assisted tricycle (300 €). For the purchase of heavy goods vehicles or light commercial vehicles, the Metropolis will pay additional aid of € 1,000 per applicant if there is a contract for a minimum period of 2 years, for the supply of green gas, or the supply of green electricity.
In addition to the four already existing EPZs (Métropole de Lyon, Grenoble-Alpes-Métropole, Ville de Paris, Métropole du Grand Paris), seven new ones will be created in 2021 : the Métropole d'Aix-Marseille-Provence, the Métropole Nice- Côte d'Azur, Toulon-Provence-Mediterranean Metropolis, Toulouse Metropolis, Montpellier-Mediterranean Metropolis, Strasbourg Eurometropolis and Rouen-Normandy Metropolis. With more and more prohibitions for utility vehicles and heavy goods vehicles.