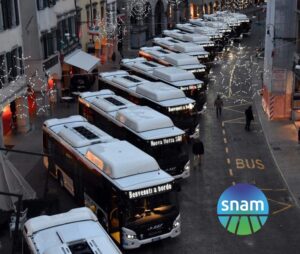 Industry leading stakeholders show their commitment to improving the life and welfare of the people. In this case, Italians will see two major companies put their actions where they are needed. Urban air quality will greatly improve and greenhouse gas emissions will be notably reduced thanks to the joint effort of Snam and Industria Italiana Autobus.
Snam4Mobility, the Snam Group company dedicated to the sustainable mobility sector, and Industria Italiana Autobus, the leading Italian bus manufacturer, have launched a partnership to improve green mobility, contributing to the progressive decarbonisation of public and private bus transport
The collaboration between the two companies will develop, through a wide range of solutions, the gradual replacement of obsolete vehicles that have higher polluting emissions. Thanks to the signed memorandum, the two companies will work jointly to promote the adoption of new natural gas buses and the use of biomethane (in compressed and liquefied form) in urban and interurban areas by the fleets of public and private companies operating in the local public transport sector. It will be supported by the construction of specific infrastructures and dedicated refueling stations as well.
To further accelerate the energy transition process of local public transport, the two companies will also develop feasibility studies and promote initiatives aimed at the ecological conversion and the necessary technological upgrading of buses already in circulation that still carry significant prospects of useful life. Snam4Mobility and IIA will also launch activities to enable hydrogen mobility in public transport through the use of latest generation buses and refueling technologies.
The transport sector has set itself the goal of containing polluting emissions with a progressive reduction (-55%) by 2030 compared to 1990 values ​​and at a country level the "net zero emission target" by 2050 must be reached. In Italy there are about 150 companies active in local public transport. Natural gas buses are currently about 5,000, equivalent to just under 30% of urban fleets and about 1% of inter-urban ones. Compared to diesel, natural gas reduces particulate matter (PM10) by 99%, NOx by 55% and CO2 by 15%. In the case of the use of biomethane, the reduction of CO2 reaches up to 90%.
These activities are part of the promotion of the energy transition , in line with the directives of the European Parliament and Council which commit the EU member countries to support, among other things, the development of the LNG and CNG distribution network through new obligations and investments.
Source: SNAM