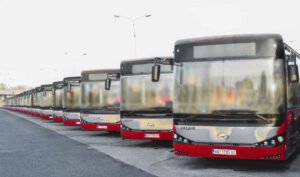 Following the acquisition of 200 CNG buses by City transport company Belgrade (GSP) last year (read the article), the mayor of Belgrade, Zoran Radojicic, announced this week that the city will renew more units in its fleet with the purchase of 100 new gas buses and 10 electric, investing about 30 million euros.
" Modern and new buses provide passengers with much greater comfort, which is why a larger number of people will certainly use public transport. On the other hand, new vehicles pollute the environment less , which is extremely important nowadays. Therefore, by purchasing new vehicles, we are contributing to the further development of public transport in Belgrade, "Radojicic pointed out.
As the mayor explained, one bus can reduce three hundred meters of traffic congestion if the number of people who would use bus transport instead of car transport is taken into account.
The new ECO line will have a route from Belgrade on the water to Kalemegdan, Radojicic specified, adding that the tender has already been completed and that the vehicles should be on the city streets by the end of this year or the beginning of next year.