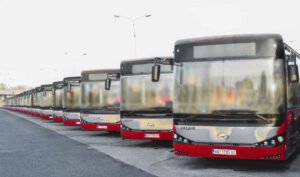 City transport company Belgrade (GSP) will acquire 200 new buses powered by compressed natural gas (CNG) this year. The Company's CEO, Radisa Momcilovic, said that GSP will also build gas stations in its two bus terminals this year, which will enable regular filling of the units.
"In the coming period, in the coming years, each new bus purchase, will be powered by alternative fuel instead of diesel. GSP Belgrade will make maximum contribution to keep the air in Belgrade cleaner" said Momcilovic.
Currently 83% of the company's fleet is either Euro V or Euro VI, and, according to Momcilovic, the older units, more polluting units will be replaced with in the next few months.
This announcement comes shortly after Serbia's second largest city Novi Sad received a €7 million loan from EBRD for the purchase of CNG buses.