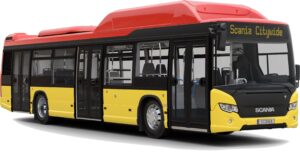 Mulhouse Alsace Agglomeration (m2A) has just ordered, via the CATP (Public transport purchasing center), eight Scania Citywide CNG buses as part of a multi-year purchase of 26 buses over four years. This is the first order for gas vehicles in the city.
The first Citywide buses will be delivered by the end of the first quarter of 2021. The remaining twenty over the next four years. They will be operated by Soléa on behalf of m2A, Mulhouse Alsace Agglomeration, which has more than 270,000 inhabitants and more than forty municipalities.
The twelve-meter Scania Citywide CNG, fitted with three metro-type doors, will be able to accommodate 23 seated and 72 standing passengers as well as 2 UFR (Wheelchair users). They are equipped with Ster 8MS passenger seats with Schoepf fabrics, particularly worked with a design cabinet.
The equipment includes an external speaker and a pedestrian gong, USB sockets throughout the passenger area, high beam and LED position lights. The 9-liter Scania engine produces 320 hp. Four 315-liter gas tanks allow a range of 500 km, equivalent to its diesel counterpart.
Scania Citywide vehicles will be prepared at the CAPS, Scania Adaptation and Preparation Center in Angers, for their personalization and for on-board equipment: weather vanes, counting, radio telephone, priority to traffic lights, etc.
Soléa, which transports 26 million passengers per year and employs some 600 people, has been ISO 9001 certified since 2015. NF Services certification since 2008 concerns the three tram lines and most of the bus lines as well as the two commercial agencies, the website and telephone reception.
Soléa, committed to an energy transition process, has already acquired two electric vehicles for city center shuttles and five standard electric buses. Soléa also offers on-demand transport and a Domibus service for people with reduced mobility.
The fleet, which currently has 120 buses, including 39 articulated and 81 standard, is resolutely committed to an eco-responsible approach, and the purchase of gas fuelled buses is a logical step in that direction.