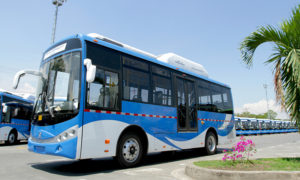 On Tuesday, the city of Cali received the first fleet of natural gas buses under  the MIO (Masivo Integrado de Occidente) transport system. These 21 vehicles arrived at the port of Buenaventura and were delivered to Cali placing the city at the forefront in the use of clean technologies in mass transit systems, thus contributing to the improvement of air quality. The buses are nine meters long with capacity for 50 passengers; They have 3 doors that allow entry to main and secondary stations, air conditioning, USB and WIFI ports, modern Multiplexed System for real-time bus diagnosis for the driver. The vehicles are  Sunwin ( SAIC group) with Cummins engines, designed to operate exclusively with natural gas. They run 250 kilometers per day. 
Mayor Maurice Armitage explained that the arrival of the natural gas bus fleet makes Cali a pioneer of sustainable mobility by using clean technologies. He added that "with these buses we are taking care of the air the Cali people breathe, because this fuel reduces pollution by 98% and the engines that use it emit 30% less noise".
Ingrid Ospina, president of Metrocali, said that this is part of the MIO sustainability plan, which aims to improve the user experience and take care of the environment.
These new vehicles estimate savings of more than 20% compared to petrol and diesel-operated vehicles. Gas emissions would also be reduced by 98% and engine noise by 30%. Mauricio Ramírez, general manager of GdO, mentioned that the objective of having a city with excellent air quality, allowed the alliance between the public and private sectors, so that the environmental guidelines set out in the Prevention Policy and Air Pollution Control, Conpes 2018 are followed.