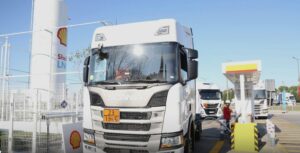 Turkey's first liquefied natural gas (LNG) station, has been opened by Shell & Turcas in the Anatolian Motorway. Turkey, becomes the fourth European country where Shell's opens an LNG station for road mobility.
The facility opened in Sapanca on the Istanbul-Ankara highway which receives the highest volumes of international transport traffic.
In a brief statement through its social media channels, Turcas Petrol said the opening of the facility marks the start of a new era in Turkey's road transport offering a new alternative fuel for the segment.
Setting up this facility was the company response to the growing demand for alternative energy sources in Turkey.
The station's opening ceremony was attended by Kocaeli Deputy Governor Dursun Balaban, Transport and Infrastructure Ministry of Hazardous Substances and Combined Transport General Manager Cem Murat Yildirim, Shell Turkey Country President Ahmet Erdem, Shell & Turcas CEO Felix Faber, Doğuş Otomotiv CEO Ali Bilaloğlu and IVECO Turkey General Manager Hakkı Işının.
Cem Murat Yildirim, expressed that they want to increase the number of LNG filling stations to support the logistics sector, Yıldırım said, "In this way, we will be able to see the increase in the number of trucks using LNG fuel on the roads in a much shorter period of time. we will continue to give our best support. " he said. .
– "THE SHARE OF LNG TRUCKS WILL RISE TO 10 PERCENT"
Bilaloğlu said that the concept of carbon footprint gains importance day by day and that the demand for alternative fuel vehicles will increase rapidly.
"We expect the number of LNG vehicles to increase to 10 percent of the truck park in our country soon." "One of the major advantages of LNG is that it is environmentally friendly as well as it provides fuel saving. LNG engines are quieter than diesel fueled engines, they reduce carbon dioxide emissions by about 10 percent. Particulate emissions are almost completely eliminated, while nitrogen oxide emissions are a third."
Bilaloğlu added "alternative fuel vehicles become competitive compared to other types of fuel with both profitable and environmentally friendly companies that make a choice and wish to open the way for such investments".
– "WE PROVIDE SAVINGS UP TO 25 PERCENT IN FUEL COST BY USING LNG"
Ahmet Erdem pointed out that the demand for energy in the world is increasing, and that this demand needs to use more and cleaner alternative energy sources.
Erdem said that LNG is now becoming an alternative fuel for the logistics sector in many countries and added, "LNG, which has a lower import cost compared to diesel, will have a positive impact on the current account deficit when used in road transport.".