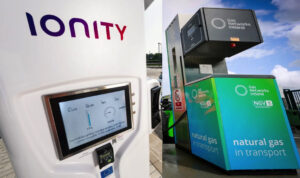 The European network of high-speed charging stations, IONITY, has announced a sharp increase in the price of energy for vehicle charging. The fixed, flat rate of €8 per charging session will change to a per-kWh rate, meaning that the user will now pay for the energy effectively consumed.
IONITY announced yesterday, January 16, a kilowatt hour based pricing structure for its rapidly growing European High Power Charging network with currently over 200 charging stations effective January 31st. IONITY is a joint venture between the BMW Group, Mercedes-Benz AG, the Ford Motor Company, and the Volkswagen Group with Audi and Porsche.
Since its launch in 2018, the operator has billed a flat rate of 8 euros per charge, regardless of the duration and the amount of energy recharged. With slightly over 200 stations in service, the company made a huge change in its policy and applied a new tariff. From January 31, the users will therefore have to pay €0.79 per kilowatt hour (kWh), a common tariff to the whole euro zone and which will be adapted to countries using other currencies.
This change will result in an "explosive" increase in costs for electro-mobility using the IONITY network. With the new tariff, an average electric vehicle, consuming 20 kWh per 100 km will pay €16 for that road section. In comparison a similar car running on CNG (fuel consumption 4kg/100 km @ €1.2 / kg ) would pay € 4.8 for the same distance. A common trip of 200 km would require €32 with the new tariff, versus €8 under the previous scheme, or €10 with CNG
Even though the very expensive rate is explained as related to reduced charging time and "premium" service, it may well mean that the price for electro-mobility charging is finally catching up to reality, and that we will see similar price increases for standard slow charging infrastructure elsewhere.