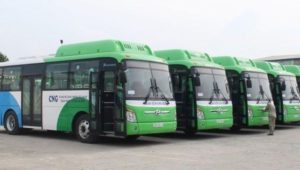 Hanoi's authorities have approved the plan to launch four new routes with buses fuelled by compressed natural gas (CNG) in the city this year.
The four routes, using 30-seat buses, will be subsidized and operated in densely-populated areas to reduce traffic congestion and minimize pollution in Hanoi.
These routes include Line 1: with a distance of 31.3 km, Line 2:  with a length of 16 km, Line 3:  21 km, and Line 4: 34 km; they run through areas with high population density and vehicle concentration which need to minimize engine noise and gas pollution. The CNG buses will contribute to creating a friendly image of buses among the city's residents.
Each CNG-fueled bus will save US$8,308 in fuel costs per year compared to diesel-fueled ones, stated Deputy Director of Hanoi Center for Urban Transport Management and Control Thai Ho Phuong.
The CNG buses are equipped with full facilities such as free Wi-Fi, information display LED and surveillance cameras. The use of clean fuels in transportation should be further replicated to reduce environmental pollution and greenhouse gas emissions, Vice Chairman of Hanoi People's Committee Nguyen The Hung stressed