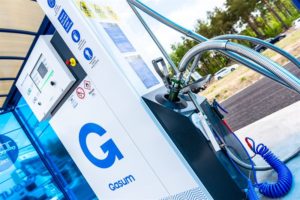 Energy company Gasum is today opening its second gas filling station for heavy-duty vehicles in Sweden. The filling station, located in Norrköping, is a part of Gasum's ambitious plan to build a Nordic network of 50 liquefied gas stations for heavy duty vehicles located in high traffic areas by early 2020s. The first filling station in Sweden was opened in Västerås in May, and in Finland there are already six stations.
Alternative fuel options for traditional fossil fuels are gaining popularity as new emission reduction targets are being set nationally in Sweden as well as internationally by the European Union. The need to reduce carbon dioxide emissions fast in road transportation is affecting heavy-duty vehicles (HDVs) as well. Earlier this year the EU agreed to set emissions standards for new HDVs for the first time. According to the new standards, the average CO2 emissions of new HDVs need to be 15% lower in 2025 than in 2019, and at least 30% lower in 2030. Sweden has also set a national target to reduce CO2 emissions from domestic traffic by at least 70% by 2030. In addition, customer demand for environmentally friendly products and services is increasing rapidly.
In order to respond to the growing demand of low emission fuel options, energy company Gasum is planning to build a network of 50 liquefied gas filling stations for HVDs by early 2020s in the Nordics. The new network of stations offers logistic companies liquefied natural gas (LNG) as well as liquefied biogas (LBG) and is seen as a necessity in the transition to a cleaner future as it offers cleaner fuels for HDVs. The new filling stations will be built in high traffic areas. The Norrköping station is located close to the E 4 route, which makes it easy for HDVs to access it and refuel. Gasum  has more than 30 gas filling stations for different vehicle segments in Sweden and Finland.
"Climate change affects all of us and we need to solve it together. Based on market demand, Gasum is building a network of filling stations in the Nordics in close co-operation with several partners. This development will accelerate the growth of gas-based hauling in the Nordics and at the same time offer logistic companies sustainable fuel options that will help them reach their environmental targets. As an added bonus, they will also make significant savings in fuel costs," says Mikael Antonsson, Director, Traffic, Gasum Sweden.
At the new filling station that is opening today, customers can fuel their HDVs with LNG or LBG. The use of LNG and LBG as fuel reduces CO2 emissions and local particulate emissions significantly, which improves local air quality. With the use of LNG, CO2 emissions can be reduced by approximately 20% compared to traditional fuels, and with LBG the reduction is as much as 85%. The Norrköping station, as well as the Västerås station, have been identified as environmentally sustainable investments and therefore been partially financed through the government's Klimatklivet (climate investment program).
"We wanted to update our vehicle fleet from diesel to liquefied gas since the economic and environmental benefits are significant for us as a logistics company. In cooperation with Gasum we have worked tirelessly on this initiative to have station here in Norrköping, and it is great to see that our hard work finally has paid off," comments Erik Alfredsson, CEO, Alfredsson Transport AB.
At the end of the summer, Gasum will expand its network with LNG/LBG stations in Jönköping and Örebro followed by more stations later in the year.
Source: Gasum