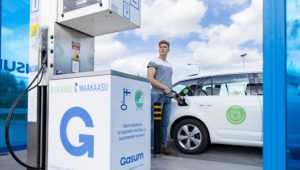 Consumers and businesses can now fill up at the IKEA store in Raisio built  in cooperation with GASUM, Nordic energy company. The biomethane is produced in line with circular economy principles. The production of fully renewable biogas is the circular economy at best and, among other feedstock, food waste from IKEA restaurants is used in biogas production. Use of biomethane as a transport fuel makes it possible to cut traffic emissions by up to 85%.
Today's opening of the gas filling station at the IKEA store in Raisio, improves the availability of low-emission road fuel gas and promotes the circular economy in the Turku region. Two gas filling stations were opened at IKEA stores in 2018, one at the store in Lommila, Espoo and the other in Porttipuisto, Vantaa. Cooperation between the companies aims to open more gas filling stations.
In addition to gas filling stations opening in the vicinity of IKEA stores, cooperation also includes utilizing waste food from IKEA's in-store restaurants in the production of biogas and a chance to use the gas in IKEA's logistics. Biogas is made from waste food as well as household and industrial biowaste and sewage sludge. Use of environmentally friendly Finnish biogas can help cut emissions by up to 85% compared to fossil fuels. Not only that, gas produces just a fraction of local emissions compared to conventional fuels and this in turn improves urban air quality.
"Responsibility and sustainability are important values to us and guide all our business. We're proud to be able to offer our customers an eco-friendly fuel option in the vicinity of IKEA stores. At the same time as we are actively working to reduce food waste, we are also promoting the circular economy by using the little food waste from our restaurants in the production of low-emission fuel," says Jessica Lehtinen, Country Sustainability Manager at IKEA Finland.
IKEA Finland aims to gradually replace the vehicles used by its staff and IKEA buses with vehicles powered by biogas or some other environmentally friendly fuel.
Growing demand for cleaner fuel
Finland aims to halve emissions from transport by 2030 compared to the levels in 2005. This calls for private motorists and businesses alike to make some quick changes. To support emissions reduction targets, the Transport Climate Policy working group set a target to have 130,000 gas vehicles on Finnish roads by 2030 and 250,000 by 2045. There are currently more than 7,000 vehicles on Finnish roads and gas motoring is showing a sharp growth in popularity in different vehicle categories.
"Recent years have seen brisk growth in the popularity of gas vehicles. In 2018, for example, the number of gas passenger cars registered was almost double compared to 2017. In addition, the recent Suomalaisten autoilu 2019 motoring survey shows that drivers clocking up more than 20,000 km a year are more interested in a gas vehicle than in a fully electric vehicle," says Heidi Kuoppala, Business Manager, Sales, Traffic, Gasum. "It's pleasing to notice how more and more consumers and businesses are committed to the environment by choosing a gas vehicle. Besides reducing emissions, they also considerably reduce their fuel costs."
Source: GASUM