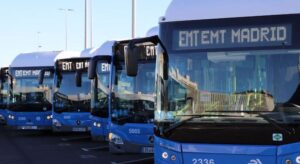 The Municipal Transport Company of Madrid (EMT) has recently awarded the tender for the acquisition of 520 new buses of Compressed Natural Gas (CNG) for 2021, 2022 and 2023. These purchases will allow EMT to remove  the most polluting units from the municipal company fleet. As announced by the City Council last December, as from January 2023 the EMT will no longer use diesel buses and its entire fleet will consist of electric, natural gas and hybrid buses.
The purchase of the CNG buses, had a base budget of EUR 161.2 million, will ultimately involve an investment of EUR 151.5 million. The allocation has been divided into three batches: the first one, of 250 buses, has been awarded to Solaris Bus Ibérica with the Solaris Bus Urbino GNC model; the second one, for  170 buses, went to Scania Hispania and its Scania N280 model GNC Castrosúa and the third batch, of 100 vehicles, has been awarded to Evobus Ibérica with the model Mercedes Citaro GNC.
The 520 buses will be delivered over the next three years: the first 190 buses will arrive in 2021, another 200 buses in 2022 and in 2023 the last 130 vehicles. This delivery program will allow the gradual withdrawal of the remaining 383 diesel buses still remaining in the EMT fleet. 250 vehicles will cease to operate in the current year and  the remaining 133 will be replaced in 2022.
Source: EMT