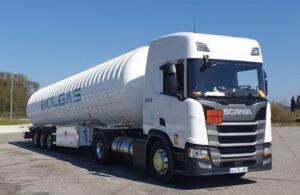 The five new Scania tractor units added by Molgás Energía to its fleet  have a 13-liter, 410 hp engine powered by LNG (liquefied natural gas) and have a maximum torque of 2,000 Nm. They are Scania's most powerful LNG engine  and have a similar performance to their diesel counterparts. These vehicles are equipped with double tanks, which guarantee an approximate range of 1,000 kilometers.
For Juan Menchero Fabián, COO of Molgas Energía, " this acquisition responds to the desire we had to test this LNG-powered 410 CV Scania tractor in order to be able to see first-hand its behavior on the road and its safety in heavy transport. We are aware of SCANIA's experience with this type of vehicle and we were clear that the new tractors that we added to our fleet had to be Scania ".
Their adjusted operating cost, lower noise level, and, above all, the possibility of using them with biomethane whenever available, make these vehicles a fundamental tool in the search for a more sustainable transport. " Molgás is a company that has long been committed to sustainability and the environment. In this way, we follow the line of our company policy, helping to achieve the EU's decarbonisation objectives and helping to improve air quality so that our future generations can enjoy a better world , "says Juan Menchero.
Source: SCANIA HISPANIA