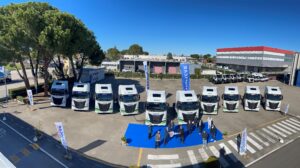 Iveco has delivered 10 IVECO S-WAY LNG in San Giovanni Teatino (CH) Italy, to AEV Srl , a company specializing in transporting goods for third parties. The delivery, which took place in compliance with the anti-Covid safety regulations, was held at the headquarters of the IVECO Adriacar dealership in Pescara.
The ceremony was attended by the owners of the company Antonio Di Teodoro together with their children, Elia and Valerio,  Alessandro Oitana, IVECO Italy Market Medium & Heavy Business Line Manager, Fabrizio Scirè, IVECO District Manager for the area, Franco Danelli President of Adriacar, Martina Danelli, CEO of Adriacar and Antonio Mezzanotte, Commercial Director of Adriacar.
The purchase agreement was signed  last September. The vehicles, will be used by the GLS courier for the routes from Central to Northern Italy, and they are equipped with the latest generation technological equipment that guarantees safety, comfort and connectivity, to improve the on-board comfort for the driver and the vehicle's performance. These units respect both economic and environmental sustainability, a requirement that  has now become an essential value for transport entrepreneurs. In particular, they are equipped with Premium Style Pack, Living comfort, Driving comfort plus, Areo plus, automatic climate control with integrated Parking cooler, Michelin 315/80 R22.5 tires.
With their 460 hp engines and the two LNG tanks that allow a range of up to 1,600 km, the IVECO S-Ways represent the ideal solution to tackle the most demanding missions and both national and international routes to which they will be destined.
Alessandro Oitana, IVECO Medium & Heavy Business Line Manager , commented: " We are proud  to have completed this agreement that sees us collaborating with a company that operates in a fundamental sector, such as that of transport for couriers. In this complex historical moment, thanks to companies like AEV, who work incessantly day and night, and to our IVECO S-Way NP, the products we order arrive punctually in our homes. The work of these vehicles, designed to meet the needs of each driver through an ergonomic drive and a range of 2 technological features that simplify life on board, translates into an excellent choice that does not neglect, but rather supports, the aspect of economic and environmental sustainability ".
Antonio Di Teodoro, owner of AEV Srl , declared: " Believing in respect for the environment, we have decided to purchase IVECO S-Way vehicles powered by LNG, which will allow us to reduce NO2 and particulate emissions and, at the same time, to optimize the total operating cost ".
AEV Srl was established in March 2007 by Antonio Di Teodoro  with more than 20 years experience in the sector. The family-run company is currently managed by Antonio Di Teodoro and his children, Elia and Valerio.
AEV has relied on the expertise of Adriacar, IVECO dealer for the provinces of Chieti Nord,  Pescara, Teramo, Ascoli Piceno, Fermo, Macerata and Ancona, which will provide support with after-sales services and maintenance and assistance programs.
Source IVECO