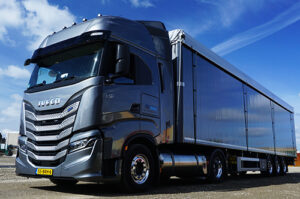 DJK Logistics is a young company with sustainability in mind; it specializes in the bulk transport of goods such as wood chips, paper, animal feed and recycled material. The IVECO S-WAY NPs are mainly used with walking-floor trailers to transport more than 94 cubic meters of bulk products per trip to various locations in Scandinavia, Austria, Germany, Belgium and Northern France.
DJK Logistics consciously opted for five IVECO S-WAY NPs powered with LNG, because with this they obtain CO₂ reduction while preparing for a future with restrictions by emission zonifications. With the arrival of these units, they are also ready for the change to Bio-LNG, with which they can reduce carbon dioxide emissions by 95% compared to the equivalent
Reducing the CO₂ footprint was an important reason for DJK Logistics to opt for IVECO trucks running on liquefied natural gas. Another factor that contributed to the decision was that despite the walking-floor trailer combination, they can still achieve a range of approximately 1,500 kilometers. This is possible thanks to a unique solution, in which a stainless steel hydraulic tank with a capacity of 120 liters is built in the middle of the chassis. This means there is room for two LNG tanks with a capacity of 200 kilograms, so that less refueling is required. The PTO system is equipped with a piston pump that delivers 110 liters at 840 rpm and a maximum of 250 bar.
The IVECO S-WAY NPs feature an anti-idle function that prevents prolonged idling, Rocking Mode function for easy out of a hole and a highly efficient 12-speed HI-TRONIX automated transmission. The LNG trucks are also equipped with a Connectivity Box, which means that the vehicles are continuously connected to the control room in Italy. As a result, DJK Logistics receives assistance to ensure maximum fuel efficiency based on data. The IVECO S-WAY NPs are all equipped with a camera system, so that the drivers have more than enough front view in every situation.
With the arrival of five IVECO S-WAY NPs, DJK Logistics consciously opts for the best alternative to diesel. These deliver comparable performance and at the same time emit 20% less CO₂, 90% less nitrogen dioxide (NO₂) and 95% less particulate matter than a comparable diesel truck. The oil change intervals are also standard on the IVECO S-WAY NPs at 90,000 km, giving the LNG trucks maximum uptime. DJK Logistics can above all build on minimal maintenance costs for its acquisitions. The S-WAYs are equipped with a Cursor 13 NP 460 engine that combines low fuel consumption with an efficient combustion process of exhaust gases due to the presence of a compact 3-way catalytic converter. This system requires no additives, no particulate filter or exhaust gas recirculation, so it requires little maintenance.
More and more governments are drafting policies to put a stop to global warming. Partly because of this, it is logical for Henk Kelly, Director of DJK Logistics, to opt for the purchase of LNG trucks. "The CO₂ tax is already a fact in Germany and measures have also been taken in Austria by the introduction of a driving ban for diesel trucks. As a result, diesel trucks are no longer allowed to drive on the A12 in Tyrol at night. It is very likely that more government sanctions will follow. We are responding to this with our IVECO S-WAY NPs. In addition, we are now ready for the step to Bio-LNG, which will enable us to make our fleet more sustainable. Our customers have also applauded the arrival of LNG tractors, enabling us to jointly contribute to a cleaner world. "
Source IVECO Netherlands