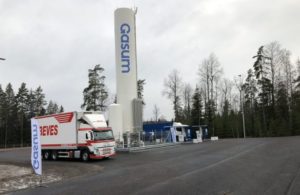 The Nordic gas filling station network continues to expand as Nordic energy company Gasum opens its fifth station in Sweden. The new station opened in Karlstad on 12th of November, offering fossil and renewable liquefied natural gas (LNG & LBG) for heavy-duty vehicles (HDVs). The new station responds to an increasing market demand for low-emission fuels. Gasum plans to grow the Nordic gas filling station network to 50 stations by the early 2020s.
The growing demand has been partly driven by the emission reduction standards of the European Union. The new regulation presented by the EU in early 2019 states that greenhouse gas emissions from HDVs need to be reduced by 30% by 2030. Gas plays a significant role especially in HDV segment in achieving future emission reduction targets in EU.
"The expanding filling station network supports logistics companies operating in Sweden that want to reduce their carbon footprint. For logistics companies, LNG and LBG are a necessity in the transition to a carbon neutral future. At the same time, they enable significant savings in fuel costs. Gasums expanding network in Sweden now covers a distance of around 1 000 km between their upcoming station in Kalmar in the south, and the Östersund station in the north" says Mikael Antonsson, Director Traffic Sweden, Gasum.
Värmland's first gas filling station located in Karlstad is part of Gasum's plan to guarantee HDVs a reliable filling station network spread across Sweden. The new station is also an answer to a growing local need for LBG and LNG, especially among Värmland's logistics companies. For example, Mejeritransport AB, a logistics company based in Värmland, has a fleet of about 35 trucks and a keen interest towards alternative fuels. Mejeritransport is one of Arla Food's logistics contractors in Sweden.
Source GASUM