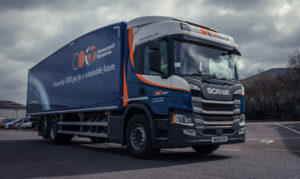 The Dedicated to Gas project deployed 20 Euro VI vehicles running on biomethane, as a combination of compressed natural gas (CNG) and liquified natural gas (LNG) trucks to three fleet operators. It was funded in part by the Office for Low Emission Vehicles and Innovate UK's Low Emission Freight and Logistics Trial (LEFT) and delivered in partnership with Cenex, Air Liquide, Emissions Analytics, Microlise, Asda, Howard Tenens and Kuehne + Nagel.
The trial vehicles travelled over 2.2 million kilometres saving over 1,400 tonnes of WTW CO2e; the same distance as 56 times around the globe and equivalent to the CO2 saved in the lifetime of 3,150 trees, which would occupy a forest equivalent to the area of 18 football pitches. The project results show that, when compared to diesel, vehicles would make at least 17% greenhouse gas emission savings with a 25% biomethane blend (B25), and 100% biomethane (B100) yields savings of at least 76%.
This is the first UK study to assess the performance of in-service and tested vehicles which are all Euro VI factory-fitted OEM gas vehicles. The trial drivers from the project fleets reported that gas vehicles perform better than diesel comparators in engine noise, vibration, overall drive comfort, engine braking and environmental performance.
Daniel Lambert, commercial director downstream at Air Liquide UK, said: "Biomethane is a completely renewable fuel that is produced from biomass (organic waste) and can replace natural gas from fossil origin. Air Liquide is a committed stakeholder across the full span of the biomethane value chain for sustainable transportation – from purification to production and to the final client – and our work on the Low Emission Freight & Logistics Trial and publication of this report is a part of that process."  
Steve Carroll, head of transport at Cenex, said: "This is an exciting time for the gas truck industry: after a decade of hard work, the UK are now in a position where there is a wide variety of OEM gas trucks and clean renewable biomethane available from public refuelling stations. This project proved the economic, environmental and operational case for gas trucks powered by biomethane. With around 80% well-to-wheel CO2 reduction from diesel, this proven technology can provide a significant in-road to meeting our net-zero targets and Cenex now look forward to assisting fleets in making the switch."
Victor Lejona, technical specialist at Cenex, said: "The collaboration between the project partners has been exceptional, which has made monitoring the trial an enjoyable and insightful experience. Biomethane is clearly an environmentally friendly and cost-effective alternative to diesel in the commercial vehicle sector. Therefore, fleet operators should seriously consider gas HGVs as a viable option in the immediate future."