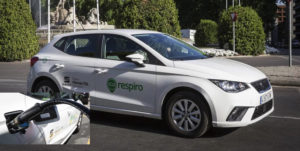 SEAT carsharing arrives at L'Hospitalet de Llobregat (Barcelona). Starting on November 14, the Catalan town will be the second city in Spain where Respiro, the current SEAT carsharing platform, will operate. It already serves in Madrid and has 15,000 users.  The mayor of L'Hospitalet, Núria Marín, and Lucas Casasnovas, head of Urban Mobility at SEAT, confirmed today the agreement in the town's City Council.
With the aim of reducing emissions and improving the city's air quality, the 16 vehicles in the fleet will be powered with Compressed Natural Gas (CNG).
Lucas Casasnovas, head of Urban Mobility at SEAT, said that "the arrival at L'Hospitalet, one of the pioneer cities in mobility issues, is a step forward in our goal to contribute to improving mobility in cities. We want to make environmentally friendly solutions available to citizens for hours or days, for their daily commutes, both in the city and outside of it."
The demand for mobility alternatives exists mainly in large urban centres. Therefore, SEAT acquired Respiro and first entered the carsharing sector in 2018. Respiro is one of the pioneer carsharing platforms in Spain that next year will be 10 years old and it already has 15,000 users in Madrid. SEAT also recently announced its entry into corporate carsharing to meet the needs of businesses and provide them with cars for minutes, hours and days, either in the city center, the auto dealerships and also at workplaces.
Finally, Núria Marín, mayor of L'Hospitalet de Llobregat and president of the Spanish Smart Cities network, pointed out that "the implementation of Respiro in L'Hospitalet will allow us to fight the effects of climate change and environmental pollution given that precisely, one of the measures included in L'Hospitalet's Sustainable Urban Mobility Plan is to promote carsharing. We continue to work to move closer to the UN's Sustainable Development Goals with the 2030 horizon."