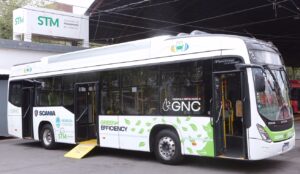 The Sociedad de Transporte de Mendoza (Mendoza Transport) (STM), which manages the public passenger transport system in and around the city of Mendoza, Argentina, tested a Scania Green Efficiency compressed natural gas (CNG) bus for two months under real operating conditions. Based on the economic and environmental results, the public company is considering adding 30 units to its fleet during 2021 and, in the medium term, replacing 100% of its diesel fleet with CNG buses.
"We are very happy with the performance of the Scania unit: it is very versatile and driver-friendly, they are world-class buses, which clearly adapt to what we are looking for," said STM Board Chairman Daniel Vilches.
The bus traveled 8,000 kilometers during the test and transported 5,000 passengers. Once the unit was prepared, with collaboration between STM, Scania and Cuyo's AVC dealership, the bus ran 16 hours a day on two routes, 230 and 285 kilometers, respectively. According to the results recorded in that period, the annual fuel savings of each bus, compared to diesel vehicles, will be around U$S 15,000.
In parallel, the STM statute forces the company to reduce its polluting emissions: "We have measured pollution levels on a weekly basis and the contribution was substantive, as the reduction was between 50% and 60% in SO2, CO2 and particulates," Vilches said, adding: "The region's energy matrix is changing. This leads us to think that CNG can be a real alternative for public passenger transport in Mendoza province and Argentina."
In addition, the manager highlighted the support they received from Scania, both in the training and monitoring of drivers and in the tuning of the unit for its operation in the geography of Mendoza.
The passenger transport company owns 88 vehicles. 9 are metro electric trams of two carriages, 18 are electric buses and the remaining 61 are diesel buses. According to the president of STM, the high maintenance and replacement values of electric vehicles and their limited range make them very difficult to use.
The tested unit has 30 seats, air conditioning and heating, air suspension and low entry. The engine is EURO VI certified, and exceedingly complies with the requirements of the standard, and of the Argentine regulations which only require EURO V for new vehicles.