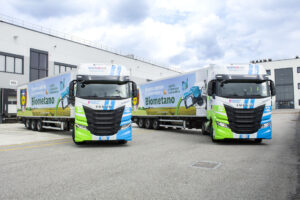 Italian companies continue to be in the frontline of sustainable development, mainly in the use of Natural and Bio-Natural Gas as a fuel for transport and logistics. These firms are also confirming the trend we are constantly seeing, of transport and logistics companies that start by testing a few Gas-Powered trucks and shortly after go all-in in replacing their diesel units by equivalent CNG or LNG fueled ones. They show the world that de-carbonization is possible right here, right now and that circular economy is not a dream but a reality.
Just over a year Lidl Italia became the first Italian company in the distribution sector to use biomethane for the transport of goods, with five Iveco Stralis NP trucks running on Bio-CNG (see story here). a renewable and sustainable fuel both in terms of CO 2 levels emitted and life cycle emissions,
Lidl Italia , the supermarket chain with over 680 points of sale in Italy, together with its partners IVECO and LC3 Trasporti, announced today an important expansion of its fleet with the addition of 35 IVECO S-Ways powered by BIO-LNG. A tangible sign of how, despite the current situation, investment in increasingly sustainable logistics remains a priority for all the stakeholders involved in the project. The new "green" vehicles will be used in the Lidl logistics platforms of Somaglia (LO) and Arcole (VR), thus supplying the Lombard and Veneto stores.
Luca Ros, Logistics Director Lidl Italia commented on this further step in favor of an increasingly green logistics: " Our long-term goal is the de-carbonisation of transport and this expansion of the fleet to BIO-LNG is an important step towards that goal. Last year we were the first Italian retail company to use biomethane powered vehicles, today we are the Large Retail Organization with the largest BIO-LNG fleet in Italy. A tangible sign of how, even in such a complex moment as the one we are experiencing, logistics continue to play a central role in Lidl's sustainability policy. Once again I thank LC3 Trasporti and IVECO, partners with whom we share the vision of an increasingly sustainable logistics. "
Once again, Lidl relies on the technologies developed by IVECO, a leading company in the production of commercial and industrial vehicles, as reported by Alessandro Oitana, IVECO Italy Market Medium & Heavy Business Line Manager :"We are honored to make our IVECO S-Way LNG available to Lidl Italia which, thanks to their green footprint, improve air quality, resulting in a significant reduction in consumption and polluting emissions - with 90% less than NO2, 95% less PM and, with the use of biomethane, 95% less CO2 than equivalent diesel versions. Especially in a historical moment like the one we are going through, for IVECO it is a source of great pride to contribute synergistically to the supply of Lidl stores through our strategic partner LC3 Trasporti, and above all, to do so in a sustainable way ".
The now consolidated partnership between Lidl and the LC3 Trasporti Group continues, Michele Ambrogi, President of the group, continued by highlighting that: "We are proud to be able to supply our vehicles powered by BIO-LNG, a fuel that comes from 100% renewable sources capable of significantly reducing CO2 emissions, to a retail leader like Lidl with whom we share values ​​and objectives. Ours is a concrete commitment to environmental health, which has an equally concrete impact also on the economic level: the transformation of food industry, agricultural and urban waste, into a product with a high added value capable of almost completely reducing the polluting emissions deriving from its combustion. And we are confident that we have taken the right path in view of the environmental objectives set by the European Union by 2030."
Source: IVECO Italy, Lidl Italy.