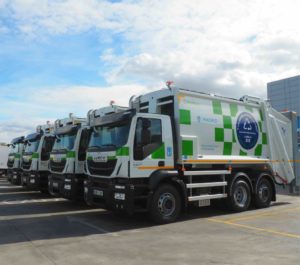 The Madrid city government continues to incorporate clean and sustainable vehicles to its fleet, for waste collection in this case. These unites greatly reduce pollution from their diesel equivalents. The city has just received 36 new IVECO Stralis NPs powered by compressed natural gas (CNG). CNG represents a 99% reduction in particle emission; 90% in NOx emission and up to 95% in CO2 emissions if biomethane is used. If this is not the case and a conventional CNG is used, the CO2 reduction reaches 20%. In addition, and not least important, the cost of fuel, which accounts for a third of a transport company's total costs, is reduced by 40%, and the total operating cost of the vehicle by 10%. The comparison is made against a diesel-powered equivalent vehicle. In this case, we are talking about Stralis NP with Cursor 8 engine of 330 hp, automatic box with integrated speed reducer. No less interesting for night jobs is the noise reduction of the gas engine compared to a current Euro VI diesel; gas engines are between 50% and 75% quieter, which means between 3 and 6 decibels less noise. And yet its capacity for work is the same as that of the equivalent Stralis diesel Euro VI.
The Stralis NP CNG for Madrid has eight CNG cylinders, with a total capacity of 640 liters which allows the same range as about 140 litres of diesel.
Currently, there are 73 stations for public refueling CNG and 46 for LNG in Spain, making it the European country with more LNG facilities, with a further 66 sites of CNG and LNG under construction.
"This is a clear example of the commitment that the big cities have to contribute each day to their environmental quality. Our natural gas vehicles, after more than 20 years of experience in their development, respond to the environmental needs that require capitals, like Madrid" said Ruggero Mughini, General Manager of IVECO for Spain and Portugal.