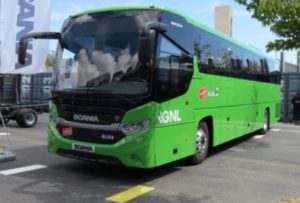 The Scania Interlink LNG bus is the only long-haul bus in the world using LNG. With this vehicle, Scania goes one step further in its strategy to become the leading company in the field of sustainable transport.
" With this vehicle we respond to a demand most sought by our customers, which is to have an alternative energy bus for the long haul segment. Alsa has been our travel companion with this vehicle, "says Alberto Linares, commercial director of buses and engines at Scania Ibérica .
" At Alsa we have been investing in gas for many years, because it allowed us to solve the technological quota imposed by the Madrid Agreement. The gas vehicle undoubtedly gives us a TCO (Total Cost of Ownership) comparable or better than that of the diesel vehicle. What this technology offers us is absolute product safety , "says Miguel Ángel Alonso, Alsa's CEO.
The bus is to operate on regional suburban transport services under the Madrid Transport Agreement, linking the cities of Alcalá de Henares and Torrejón de Ardoz with the capital, Madrid.
" This type of route is extremely demanding in terms of high traffic density, traffic and high passenger volume. This requires us to have buses that provide high passenger comfort and low emissions. In addition, technically, it has to be reliable enough so that we can have high availability, "says José César Plana, Alsa zone director .
The Scania Interlink LNG vehicle is unique in the world for two reasons:
It is the only long-haul bus powered by this type of technology.

It is the only gas-powered bus with a range of up to 1200 km.
" The future of LNG is a very promising and totally necessary future, because it is one of the possible solutions we will have in the future to find alternative energy in the long haul segment, which is one of the goals we have at Alsa, " says Miguel Ángel Alonso, general director of Alsa.