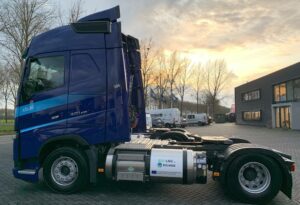 On December 17, logistics service provider CB welcomed five new Volvo LNG trucks to its fleet. These replace five diesel cars from CB's fleet. CB uses its LNG trucks on long distances in the Netherlands and Belgium, saving 23% on CO2 emissions.
CB has more than 145 years of experience in logistics services and distributes physical books and e-books, in the Netherlands and Belgium. CB also offers logistics solutions for the Healthcare market. With over 800 professionals, CB contributes to the success of our customers every day.
The Volvo LNG trucks are also considerably quieter than the diesel-powered versions. Arjan de Jong, Transport Manager at CB explained: "These trucks run on Liquid Natural Gas and make a significant contribution to our ambitions of 30 percent CO2 savings and 70 percent particulate matter reduction for 2020. They are more expensive to purchase and the driver needs a special certificate . But the fuel is cheaper and ultimately we earn back the investments. "
The purchase of these trucks comes a few days after the announcement of  the government stimulus for the use of LNG fuel of 18.7 cents per kilogram over the next two years (read here). The total available subsidy amounts to 8 million euros. The scheme is a boost for the LNG lobby and the logistics service providers who have already invested heavily in the purchase of LNG trucks. Last year it still looked gloomy because the Ministry of Finance did not want to extend the excise refund scheme on this  popular sustainable (transition) fuel. That did not prevent CB from purchasing the first Volvo truck on LNG in that period.