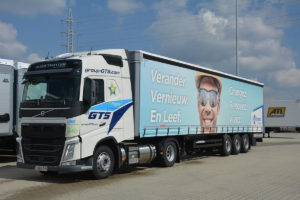 More Belgian freight transport companies are switching from  diesel or gasoline to LNG. The capacity and range of trucks that use natural gas is not only comparable to conventional trucks, LNG trucks are also  more environmentally friendly. Gyproc, which is part of the French world leader in building materials Saint-Gobain, has now also made the green shift. "The use of LNG trucks is an important step towards sustainable business in all areas," says Rini Quirijns, CEO of Gyproc. 
Since 2018, the use of trucks on LNG, has been on the rise. According to a study by energy regulator CREG natural gas vehicles are more economically and ecologically interesting than diesel or gasoline. The units have a 400 hp engine and can drive up to 1,500 kilometers on one fill. Moreover, LNG trucks emit considerably less than the current Euro 6 standards: 15% less CO2, 70% less NOx and up to 99% less particulate matter.
Gyproc, market leader in plaster solutions, is also responding to the green trend. The company works together with Group-GTS for this project. "We are trying to work on more healthy air for everyone," explains CEO Rini Quirijns. "That is why we switched from diesel to LNG with our trucks for our domestic transports from Kallo. In this way we contribute to more sustainable transport and a cleaner port. "
Business opportunity
"Together with our fleet manager we have extensively tested the LNG trucks", says Ben-Geybels, CEO of Group-GTS. "We have calculated that there is a real business opportunity. The conditions are that the trucks travel 130,000 kilometers per year, and that they are used in fixed shuttle services. The network of LNG filling stations is still quite limited. "
"More and more customers have a climate policy and want us to reduce CO2 emissions," adds Geybels. "However, most are not willing to pay more for their transports. But if we achieve the specified distances, we will end up cheaper with LNG than with diesel, with a significantly lower environmental impact. And that with the same driving performance, the tests have confirmed that. "