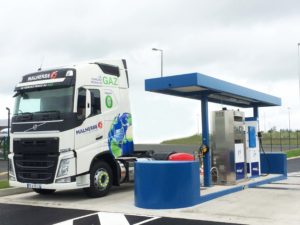 Pioneer in the gas mobility in France with dual fuel stations (LNG and CNG), Naturgy expands its network in France with the opening of a station at Carpiquet, near Caen.
The station, inaugurated on June 13, is located on the ground of the carrier Malherbe at Carpiquet, near the peripheral of Caen in Normandy. Ideally located between several highways, it allows carriers to get supplies to go up to the north of France and Paris via the A13 (Normandy motorway), or to reach Brittany and the Atlantic coast via the A84 (highway estuaries).
This CNG station is located in a logistics zone in order to offer all local and transit carriers a new gas refueling service.
This station delivers natural gas in liquid and / or compressed form. It has two LNG dispensers and two CNG dispensers.
First LNG-C station in this area, it has a large capacity with a tank of 80m 3 .
The Naturgy stations are currently delivering an average of around 150 tonnes per month.